In football, the draws for World Cups are done after the qualifying is done. In rugby, that just wouldn't be any fun, so we have a draw for RWC2019 where 8 of the 20 teams are unknown!
On Tuesday I wrote this http://rugbyunited.org.uk/content/journey-japan-part-2-draw-peter-redman about my pre-draw feelings, and now the draw has been done I have a feeling of excitement and disappointment.
The excitement that I can soon start planning, tipped by a tinge of disappointment with the draw that England got.
It's not so much a "Pool of death", but more that England's opponents don't inspire me to do all I can to get tickets, added to the fact the England-premium will be added to the cost.
What this does mean, though, is that like 2015, I'll be searching for some smaller games which interest me, with a couple of big hitters thrown in.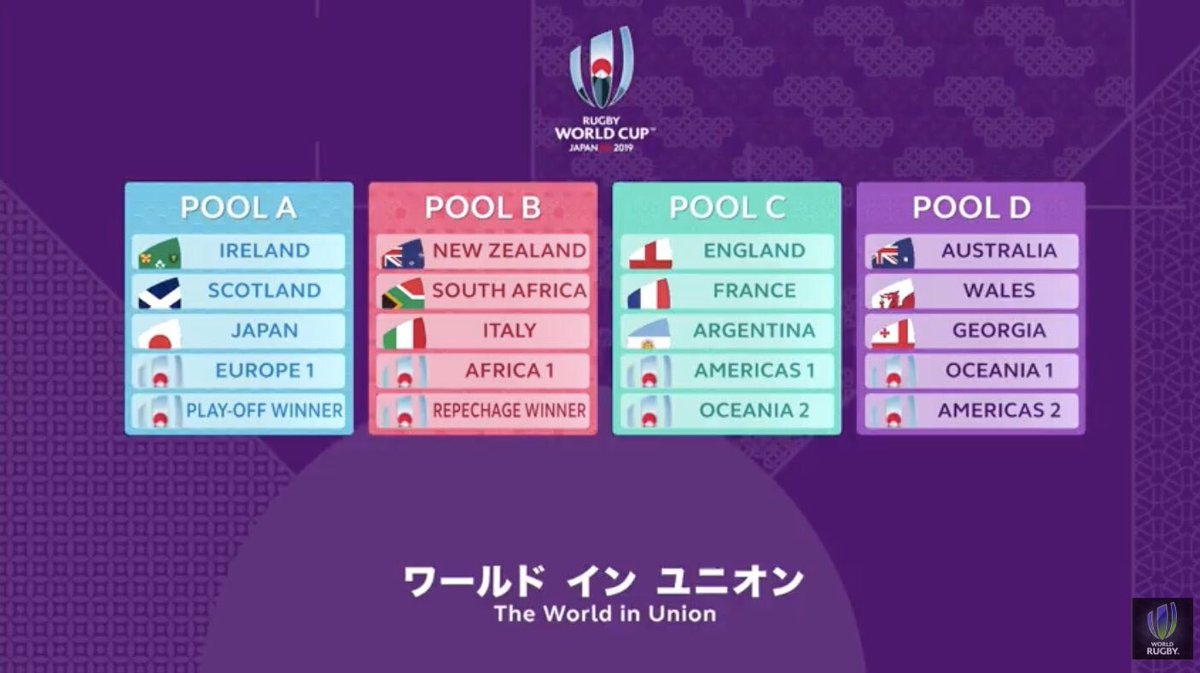 Assuming what I predicted previously for qualifiers goes to plan, these are the sort of games I'll be looking to:
⦁    In Pool A, Japan are likely to open the tournament against one of the two big European teams. Whether Scotland or Ireland, that will be a fantastic occasion and probably my number one pick.
⦁    Also in Pool A, where the play-off winner could well be Tonga, a matchup between Japan and Tonga would be a lot of fun.
⦁    Finally, in Pool A, the city which hosts Ireland v Scotland will be a lot of fun. And hungover. And drunk dry.
⦁    In Pool B, the big two hitting off will be great but they play each other regularly but what about Namibia, likely to be Africa 1, with a great chance of a win against the Repechage team.
⦁    In Pool C, the involvement of a Pacific Island team (personally hoping for Samoa) would add some spice and a game for them v Argentina could be interesting.
⦁    From an England point of view, I hope Americas 1 are Canada as I've never seen England play them!
⦁    My wife is American, so I always look for where they might be – matchups with Pool C or D aren't great for them as it's unlikely they'll beat any of the top 3 seeds, nor a Pacific Islands side. But hey, you never know.
⦁    In Pool D, a clash between Georgia and the Oceania 1 side should make some ground shake.
⦁    Wales' clashes with those same two sides could be interesting, too. Wales seemed to lose their way during the last 6N and it will be an interesting test versus a Georgian side still angling for a place at Europe's top table. What price an upset there?
All in all, I reckon I've got a good 6-10 top matches I want to go and see. Hopefully, the schedule falls nicely and I can fit them all into a great trip, that will encompass rugby, culture and my family, too!
World Rugby have said they expect to announce the schedule in September, as part of the "two-years-to-go" celebrations.
What does this mean?
For me, it means I've got all excited about the draw, I've got a plan ready to go… and now I need to wait at least 5 more months!
Thankfully we have qualifying to confuse ourselves and keep ourselves busy. We're all excited for Sri Lanka v the Philippines this weekend, aren't we? No? What about Chile v Brazil? No? Just me then…
Here on out, I'll be blogging every 2/3 weeks with qualifying updates, and anything which I'm planning and plotting, at least until it really starts heating up.